'True Blood': Kristin Bauer On 'Heartbreaking' Eric And Pam Change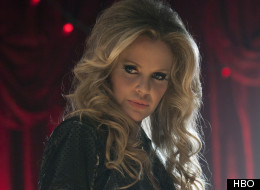 Everything is going to change in the wicked world of "True Blood" scene-stealer Pam and the actress who plays her, Kristin Bauer, is opening up about it. Warning: Spoilers for "True Blood" Season 5, Episode 4, entitled "We'll Meet Again," below.
Eric has released Pam. As her maker, he no longer has hold over her, and Bauer revealed to The Huffington Post how difficult that scene was to film.
"When I read it, I cried; at the table read, I cried; when we were rehearsing it, I was crying; when the camera was on my back, I was crying," Bauer said in a phone interview in June. "It just was so emotional to me and so heartbreaking because he's the only thing that matters to her. He will always be her maker, but the fact that that umbilical cord has been cut, that the baby was pushed out of the nest to learn to fly, just felt like a loss to Pam."
Pam, who now has her own baby vamp in Tara, understands why Eric had to do what he did. "If you've been together for over a hundred years — to have that relationship change, it's very emotional," Bauer said. "I think that's one of the harder things for Pam, any change or loss from Eric … That's her whole thing. She doesn't see her life without him and to try to have a life without him — I'm not sure she can do it– or wants to do it."
With this big change happening toward the beginning of Season 5, Bauer said Pam will begin exploring the world without Eric by her side. "She has to see what her life will be," she said. "This is completely new territory for her."
Source: HuffPost TV
'True Blood's' Kristin Bauer on Pam and Eric's Emotional Scene: 'It Feels Like an End'
If watching the striking scene between Eric (Alexander Skarsgard) and Pam on HBO's True Blood on Sunday was a tough one for the duo's fans, Kristin Bauer van Straten says that shooting the story twist was just as traumatic.
"I cried when I read the scene," Bauer, 45, tells Celebuzz. "I cried in the table read, I cried in rehearsal, I cried when the camera was on my back, because it just for some reason felt so real and personal to me. There was no 'OK, now I'm going to act.' It was just there."
After a maddening search for Eric, Pam returns to Fangtasia to find her maker waiting for her. Who knows how much time has passed since they last saw each other, but much has changed. Pam has her own progeny in Tara (Rutina Wesley). And Eric's usual steely, confident demeanor has been dulled by the Authority's threat to his life. In the end, he decides that she would be better off (and probably safer) if he released her from their maker-progeny relationship.
"It was so unexpected to us, to me, to Alex, but it's very pointed and still the bond is always there," Bauer explains. "It's a little bit like when I went off the college and said, 'Bye, daddy.' You know you go off on your own, these rites of passage when a girl gets married. It was really deep to play. It was big for us."
Skarsgard has become one of the most popular (and desired) actors on the HBO series. And, although she has worked with him over five years and in varying states of undress, Bauer says she hasn't become immune to the Swedish actor's charms.
"I've been glamoured by him," the actress says. "Kristin loves Alex and I just think that he is just an amazing man and he's my buddy. He is such an intelligent, sweet funny guy."
"So any scene when I've had to play worrying about him burning in the parking lot, I can just turn on the waterworks, because all I do is think about Alex being hurt," Bauer adds. "And then on top of it you have all the feelings that I've been creating and coming up with for Pam. So, I think I'm thoroughly glamoured."
So, what's next? Fans wonder if this is the end for Eric and Pam. And even if it isn't, how long can the series keep them apart?
"It feels like an end," Bauer admits as she awaits to complete filming on the season. "It feels like I'm lost. It feels like a big huge transition or change. And we all know from our own lives that big huge transitions and changes may turn out to be a great thing but still s—tty."
"It's just an unknown thing," she goes on to say. "Although we do know that the bond between Eric and Pam, no matter what you call it, will never go away."
Source: Celebuzz